Disclaimer: I received this book from the publisher ( Tyndale Publishers)
in exchange for an honest review of the book.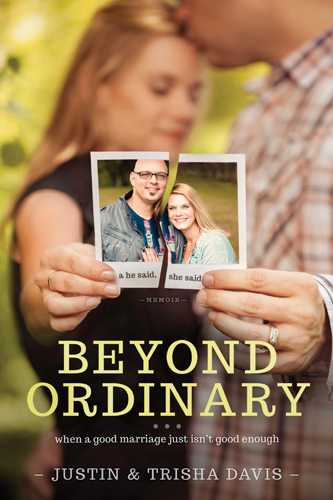 First off this book is awesome! However let me explain that in being awesome, it will challenge you. It will ask some REALLY tough questions. Questions that will make you question yourself, your faith and your heart. These questions aren't to discourage you but are meant to help you. I honestly believe this book could transform a marriage even if that marriage does not have the same issues, the same principles can be applied.
Now down to the nitty gritty. I did not realize just how much my marriage looked like Justin and Trisha's marriage. We aren't in ministry, yet. However our story is similar to their's and may be that is why I can take so much from this book, from their story and apply it to my marriage and my life.
There were a few things that jumped out at me in this book:
-Pursuing God involves a willingness to surrender our rights and our desires to God for his desires and his plan.
-

Change in our marriage doesn't come by changing our spouse but by allowing God to change our hearts.
-
Brokenness is an act of surrender. It's a decision to lay every thing on the line and submit it all to God.
Brokenness is an individual decision.
-A

lthough physical intimacy is not always mutually desired,

when it is mutually offered it goes beyond the obvious physical pleasure and becomes a sacred sharing of knowing and being fully known physically emotionally and spiritually.
-
Grace is not grace until we accept it.
These are a few pointers of the book. It is not ALL of the pointers. I'd be nearly copying the book word for word if I gave them all. LOL.
One thing I will tell you is that if you have reached that point in your marriage where you know you need help. This is a starting point. It's biblical, its heart felt, and God is in it. It's not a book just for women or just for men. It's for both spouses. It is told from both Justin and Trisha's point of view, so its not one sided. I'd personally recommend that both spouses should read the book ans study it together. Make the commitment to learn from the book and pray the prayer:
"LORD CHANGE ME."
Focus on yourself while you focus on God and on your marriage together.
If I had to rate the book, I'd give it 5 stars...two thumbs up. As we speak I read it first, took notes. Now my husband is reading the book and hopefully taking notes. I'm sure we will have questions for each other and we will move into the extraordinary marriage and lives that God intended for us.
I've had time to let this book soak and now I offer a bit more personal take on it. There are some areas in this book I will say completely rocked me to my core and allowed me to confront some areas in my marriage and in myself that I probably would have never done. I thank Justin and Trisha for being so open and honest in this book, it has made me understand that I am not alone, that we are not alone. That not every christian couple has the perfect marriage and that it will take hard work. That it is possible to go to no man's land and STILL rise as a united front, able to tell your story, give your testimony and give ALL the glory to God.
I thank the Lord for faithful people like Justin and Trisha because they are helping marriages with this book. Because after reading this book, many couples will realize that they need help, that they want help, and seek God, seek godly counsel. And that's where couples need to get to. A place where they are willing to fall before God and place their marriages on the alter.
For more information on Justin and Trisha Davis (founders of RefineUs Ministries):
http://vimeo.com/52880543 <---link beyond="beyond" for="for" i="i" ordinary="ordinary" the="the" to="to" trailer="trailer" video="video">---link>
With Love
Kris Bush